What is Remote IT Support? A Comprehensive Overview for Businesses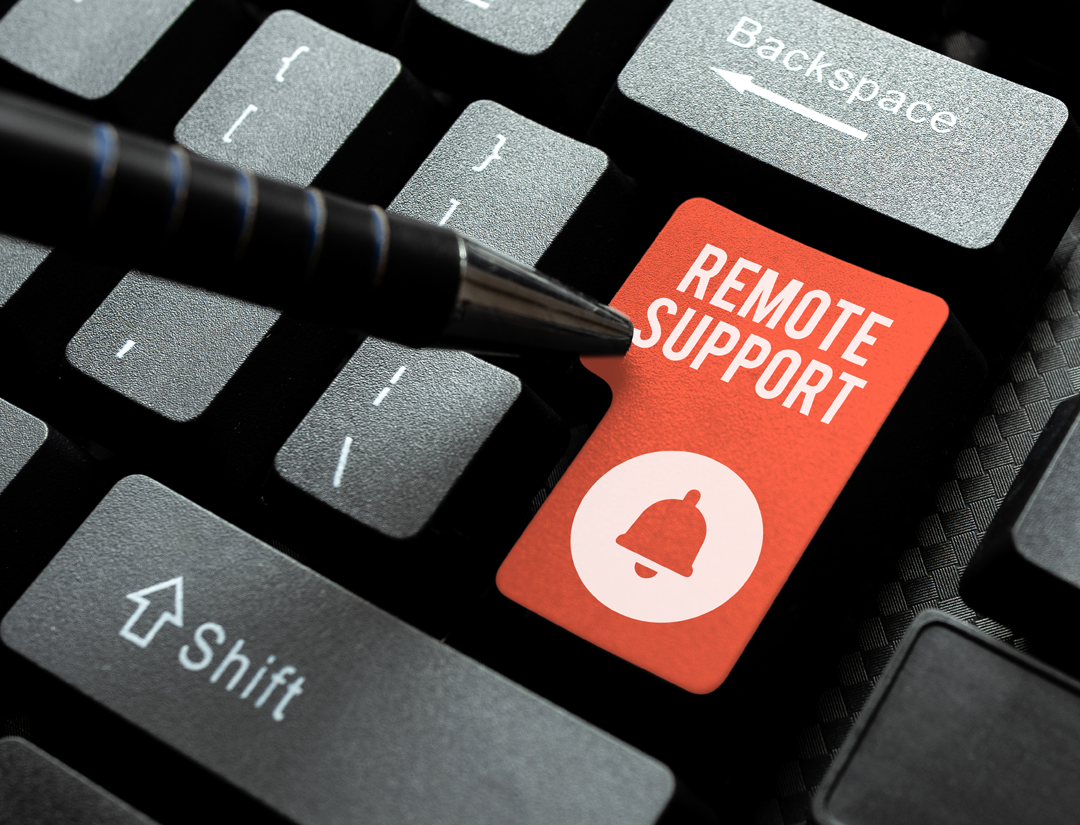 Picture a busy office, where employees are fully immersed in their work, and suddenly, the server comes to a sudden halt. Panic courses through the room as operations grind to an unexpected stop. In today's rapid paced business world, these situations are more than mere inconveniences; they hold the potential for disastrous repercussions that can extend far beyond the immediate moment. The ability to promptly address and overcome IT obstacles serves as a vital lifeline that businesses cannot afford to neglect.

Efficient operations and growth opportunities rely on fast IT support, something that is not just a luxury but a necessity. Businesses that receive prompt assistance are able to maintain uninterrupted operations and seize growth opportunities. That's where Remote IT Support comes in, providing expertise and rapid response that can make the difference between prolonged downtime and continued productivity.

In this guide, we'll take a thorough look at Remote IT Support. We'll discuss what it involves, the benefits it brings, and how businesses can seamlessly incorporate it into their operations. By providing quick problem solving, bolstered security measures, and scalability options, Remote IT Support has the potential to revolutionize how businesses tackle their IT needs.
What is Remote IT Support?
In today's changing business environment, technology plays a crucial role in driving growth, efficiency, and maintaining a competitive edge. However, navigating the complex world of IT infrastructure and keeping up with constant advances in software and hardware can pose significant challenges for businesses. These challenges have the potential to disrupt operations and hinder progress. This is why the role of Remote IT Support becomes essential, ensuring uninterrupted operations.

Remote IT Support is a modern and transformative solution for businesses of all sizes. It allows for addressing technical problems by leveraging technology and online communication rather than relying solely on on site support. This assistance enables prompt and effective resolutions to various IT challenges.

Remote IT Support relies on a team of skilled technicians and specialists who provide assistance, diagnose problems, and offer solutions from afar. Using advanced software, secure connections, and real time communication tools, these IT professionals create a virtual connection to a business's systems and devices, eliminating the need for an in person visit. This digital link allows them to identify issues, carry out maintenance tasks, and provide training remotely.

In the following section, we will explore the various benefits that Remote IT Support offers to businesses seeking streamlined operations and enhanced technological capabilities. With these advantages, businesses can confidently navigate the complexities of the digital landscape, knowing that Remote IT Support is a reliable ally in maintaining efficiency, reducing downtime, and driving growth.
Benefits of Remote IT Support
The ability to promptly address and resolve IT challenges is a key factor for success. Remote IT Support has emerged as a valuable ally, providing businesses with numerous advantages that go beyond traditional on site solutions. Let's delve into the many benefits that Remote IT Support offers, making it an essential tool for businesses of any size.
Swift Response and Issue Resolution
Remote IT Support offers the advantage of rapid response times. In today's fast paced world, any downtime can result in missed opportunities and financial losses. By connecting with experienced IT professionals remotely, businesses can quickly address issues, receive diagnoses, find solutions, and restore their systems promptly.
Cost efficiency and Resource Optimization
On site IT support can be costly, with expenses including travel, technician wages, and potential delays. However, Remote IT Support offers a solution by eliminating these financial burdens. Businesses can access high quality IT expertise without the added costs of on site visits. This cost effectiveness is especially beneficial for small and medium sized businesses with limited budgets.
Accessibility Across Geographical Boundaries
In today's global business landscape, Remote IT Support provides a significant advantage for companies operating across multiple locations or even internationally. This innovative approach effectively bridges geographical gaps, allowing businesses to access expert assistance regardless of where their offices or teams are located. With remote support, businesses can receive timely and convenient solutions without the constraints of physical proximity.
Minimized Downtime and Enhanced Productivity
Technical issues can cause significant disruptions to operations. However, with Remote IT Support in place, these glitches can be swiftly diagnosed and resolved, minimizing downtime. This leads to increased productivity, less frustration among employees, and ensures smooth workflow continuity.
Security and Data Protection
Cybercrime is on the rise, making online security of the utmost importance. Remote IT Support directly addresses this concern. Trusted providers of remote support take rigorous measures to safeguard sensitive information during remote sessions. By employing encrypted connections and secure protocols, they ensure that data remains confidential and protected against unauthorized access.
Scalability and Flexibility
The IT requirements of businesses evolve and expand as they grow. To meet these changing needs, Remote IT Support is designed to scale along with the organization's growth trajectory. Whether the business is adding new devices, adopting new software, or expanding its team, remote support can adapt accordingly to ensure a smooth and seamless IT experience.

In the constantly changing world of business technology, Remote IT Support offers a practical and cost effective solution for businesses. By adopting this approach, companies can benefit from efficient and accessible technical assistance that aids their growth and success in the digital era.
Implementing Remote IT Support Successfully
To successfully transition to Remote IT Support, careful planning, strategic implementation, and effective collaboration between your in house IT team and the chosen Remote IT Support provider are essential. With businesses increasingly realizing the benefits of remote support, it is crucial to navigate this transition smoothly to fully reap its advantages. Follow along for a comprehensive guide on successfully implementing Remote IT Support.
Assess Your Needs
To start, assess the IT needs and challenges within your organization. Take note of common issues, how often support is required, and areas where remote assistance can have the greatest impact. This evaluation will help determine the level of support needed and establish clear expectations.
Choose the Right Provider
Choosing a reliable Remote IT Support provider is crucial. It's important to conduct thorough research and compare different providers based on their expertise, customer reviews, track record, and the range of services they offer. Look for providers that align with your business goals and values, as this will ensure a strong partnership in the long term.
Collaborate with Your In House IT Team
Make sure to involve your in house IT team in the decision making process and communicate the shift to remote support transparently. Address any concerns they may have and position remote support as a resource that complements their capabilities rather than replacing their experience.
Set Clear Objectives
Before implementing Remote IT Support, it's important to establish your objectives. Whether your goals are focused on minimizing downtime, enhancing response times, or streamlining IT operations, setting clear targets will not only guide the implementation process but also allow you to measure the success of remote support.
Establish Communication Protocols
Effective communication is crucial during the transition. Clearly define the methods of communication with the remote support team, whether it is through email, chat, or video conferencing. Establish protocols for reporting issues, escalation procedures, and regular updates to ensure that everyone is well informed.
Training and Familiarization
Train your staff on how to start remote support sessions, securely share access, and effectively communicate with technicians. This will ensure that employees are familiar with the new process and can fully utilize the available support.
Test and Fine Tune
It's important to conduct pilot tests before fully implementing remote support to identify any potential challenges or areas that need improvement. Test various scenarios to ensure that the remote support tools and processes seamlessly integrate with your existing infrastructure.
Monitor and Evaluate
Make sure to regularly track the performance of your Remote IT Support. Keep an eye on response times, rates of issue resolution, and user satisfaction. This data will help you identify areas where things are going well and areas that may need some adjustments.
Adapt and Evolve
As the technology landscape constantly evolves, so too will your IT needs. It's important to remain flexible and adaptable, always ready to adjust your remote support strategy in response to emerging technologies and the growth of your business.

Successfully implementing Remote IT Support requires careful planning, open communication, and a collaborative approach. By embracing this transformative method and adopting a proactive mindset, businesses can seamlessly integrate remote support into their IT operations. This commitment to continuous improvement positions organizations for enhanced efficiency, productivity, and success in the digital realm.
Conclusion
Technology plays a crucial role in the growth and success of businesses. It improves efficiency and competitiveness, making reliable IT support essential. Remote IT Support is a game changer as it offers numerous benefits to businesses of all sizes. By minimizing downtime, enhancing security, and providing scalability, Remote IT Support becomes an indispensable tool for streamlining operations and staying ahead in the digital age.

When it comes to leveraging the benefits of Remote IT Support, businesses require a reliable partner who comprehends their specific requirements and can offer customized solutions. That's where Prescient Solutions excels. As a highly experienced managed IT provider, Prescient brings decades of expertise in providing top notch IT support, consulting, and management services.

With a team of skilled professionals and an unwavering commitment to innovation, we empower businesses to navigate the intricacies of technology with utmost confidence. Whether you aim to optimize your IT infrastructure, enhance security measures, or ensure seamless business continuity, our team is dedicated to delivering the expertise and support necessary for thriving in today's digital landscape.
For questions or inquiries, reach out to our team today, or call us at
. We are excited to learn more about your IT goals and how we can assist you!