The Next Chapter in Managed IT Services: Trends and Transformations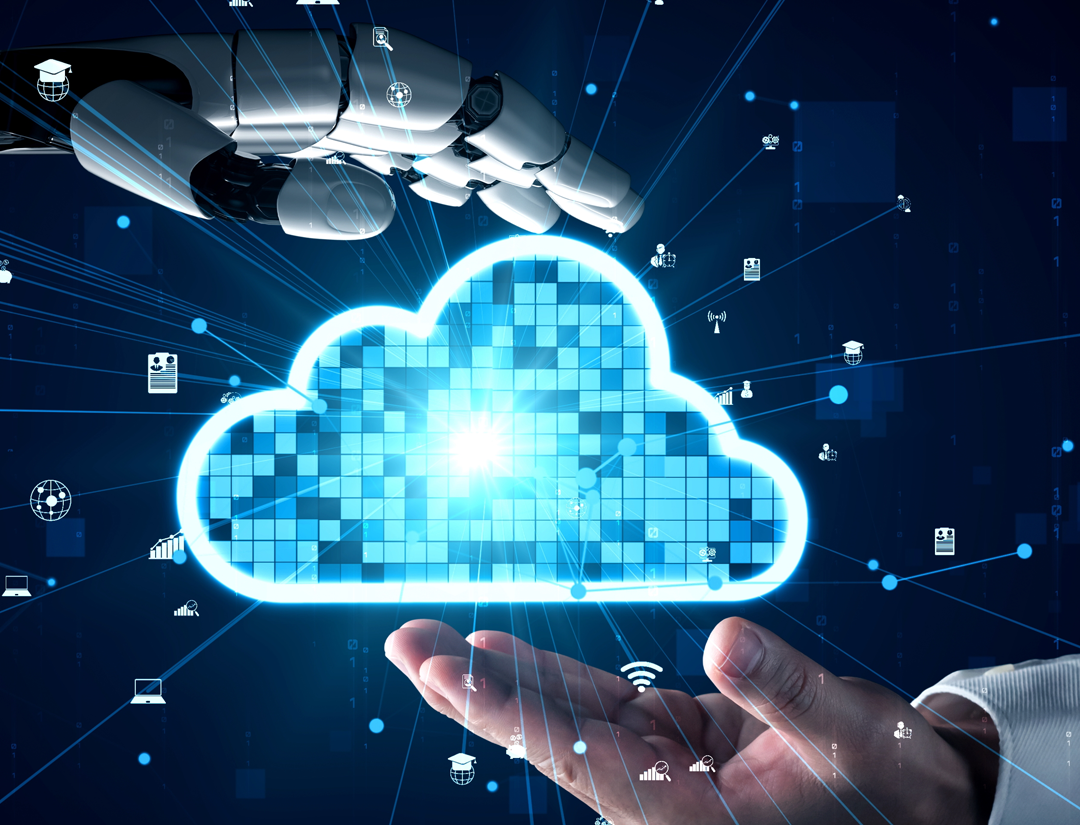 Managed IT Services have undergone a significant evolution, adapting to the ever changing tech and business landscapes. Initially, their main goal was to provide essential IT support and manage infrastructure efficiently. However, they have since become invaluable strategic partners for businesses. In addition to ensuring seamless IT operations, managed IT services now actively contribute to shaping digital transformation strategies.

In this blog, we'll explore the next phase of managed IT services, highlighting the key trends propelling businesses towards improved efficiency, enhanced security, and data driven decision making. From optimizing cloud strategies to strengthening cybersecurity measures and more, managed IT services serve as trustworthy partners in navigating this ever evolving digital landscape.
Cloud First Approach and Its Impact
The cloud has revolutionized the management of IT infrastructure for businesses. Adopting a "cloud first" approach is no longer just a trend but a crucial strategic decision. This approach involves strategically migrating a significant portion of IT resources and applications to cloud based platforms like Amazon Web Services (AWS), Microsoft Azure, and Google Cloud.

The shift towards utilizing cloud services is driven by the desire for increased efficiency and scalability. With cloud services, businesses gain unparalleled flexibility to adjust their IT resources in alignment with their evolving needs. This adaptability not only reduces operational costs but also ensures optimal system performance. Additionally, cloud providers prioritize security and compliance, making significant investments to offer businesses heightened confidence and robust data protection measures.

However, adopting a cloud first approach does come with its own challenges, such as data governance, vendor lock in, and integration complexities. To address these challenges, businesses can turn to managed service providers for assistance. These partners specialize in developing robust cloud strategies, facilitating smooth migrations, and offering ongoing management and optimization of cloud resources. Their expertise can help navigate the complex landscape of cloud adoption effectively.

In the journey towards adopting cloud technology, managed service providers serve as valuable allies for businesses. They guide them in fully utilizing the potential of the cloud while simplifying complexities and ensuring that their strategies align with their overall business goals. As the cloud continues to shape the IT landscape, partnering with managed service providers becomes crucial for organizations striving to succeed in the digital age. Their role in facilitating this transformation is invaluable.
Security as a Top Priority
In today's evolving digital landscape, businesses of all sizes and industries are facing an escalating array of cyber threats. As these threats become increasingly sophisticated and frequent, ensuring robust security measures has become a top priority. That is why managed IT services have proactively adapted to this changing environment by prioritizing comprehensive cybersecurity solutions. These solutions encompass proactive threat detection, real time monitoring, and swift incident response capabilities to safeguard critical business data and operations.

Leading the way in the evolution of cybersecurity are Managed Security Service Providers (MSSPs), specialized entities that offer businesses around the clock protection against a range of cyber threats. These threats include insidious ransomware and deceptive phishing attacks. MSSPs utilize state of the art technologies like artificial intelligence (AI) and machine learning to constantly analyze network activity, quickly detect anomalies, and identify potential security breaches in real time.

The need for strong security measures has been emphasized by the enforcement of regulatory compliance requirements such as GDPR and HIPAA. Managed IT service providers have extensive experience in navigating complex compliance standards and assisting businesses in meeting these rigorous requirements. Their expertise extends beyond mere adherence to regulations, encompassing the development of robust security strategies to protect sensitive data and ensure privacy. By aligning businesses with the legal and ethical standards governing their industries, they offer comprehensive solutions for data protection.

In a world where cyber threats constantly pose a danger, the importance of managed IT services in strengthening cybersecurity measures is increasing. By offering businesses the necessary tools, technologies, and expertise, managed services enable organizations to proactively safeguard their assets, data, and reputation in an ever evolving security landscape. As cyber adversaries adapt and develop new tactics, managed IT services stand watchfully to ensure that businesses are well equipped to defend against current threats and prepared for future challenges in the realm of cybersecurity.
Automation and AI in Managed Services
The field of managed IT services is undergoing significant changes with the adoption of automation and artificial intelligence (AI). Businesses are increasingly utilizing these technologies to optimize operations and improve overall efficiency.

Automation is drastically transforming the way routine tasks are managed in IT. It entails utilizing software and technology to carry out tasks with minimal human involvement. This encompasses activities such as automating patch management, deploying software, and monitoring networks. By implementing automation in these processes, businesses can save time while also minimizing the risk of errors, leading to improved consistency and reliability.

Artificial intelligence, specifically machine learning, is becoming increasingly essential for predictive analytics and proactive issue resolution. By analyzing vast datasets, AI algorithms can detect patterns and anomalies that may not be apparent through manual analysis alone. This predictive ability empowers businesses to anticipate potential problems before they impact operations. For example, AI can forecast hardware malfunctions or network congestion, enabling preemptive measures to avoid costly downtimes.

Managed service providers play a crucial role in helping businesses leverage the power of automation and AI in their IT services. They bring valuable expertise and guidance, assisting businesses in navigating the complexities of these technologies. MSPs carefully evaluate each client's individual requirements, creating customized strategies for automation and AI that align with their objectives. The oversees implementation, management, and customization to ensure that these solutions are finely tuned to meet specific demands.

MSPs also continually improve these systems to provide greater efficiency, pre­dictive insights, and improved user experiences. By utilizing the support and resources offered by MSPs, businesses can confidently adopt these transformative technologies and position themselves for success in today's digital and data driven environment.
Edge Computing and IoT Management
The Internet of Things (IoT) has led to a significant digital transformation across industries, with a widespread increase in connected devices. These devices, including smart thermostats and sensors in factories and autonomous vehicles, generate a large amount of data at the network edge. However, this surge in data has presented challenges relating to processing, latency, and reliability.

To tackle these challenges, a revolutionary solution called edge computing has emerged. This innovative approach involves processing data in a decentralized manner, right at the source of IoT devices. Managed IT service providers have acknowledged the rising importance of edge computing and are actively involved in optimizing and managing this de­centralized infrastructure to overcome complexities related to data processing.

One significant advantage of edge computing is its ability to minimize latency. Unlike traditional cloud computing models, where data must travel to centralized data centers for processing, edge computing processes data right at its source. This enables real time decision making, which is particularly important in mission critical situations where split second decisions can make all the difference.

Additionally, edge computing improves the reliability of Internet of Things (IoT) applications. By processing data closer to devices, there is reduced reliance on a consistent and stable internet connection. This means that even during network disruptions, edge devices can operate independently, guaranteeing uninterrupted functionality for crucial IoT systems.

Managed IT service providers are playing a vital role in driving the edge computing revolution. They offer customized solutions that include remote management of edge devices, data analytics at the edge, and strong security measures. Whether it's optimizing operations in smart factories, ensuring safety in autonomous vehicles, or enabling real time healthcare monitoring, edge computing supported by managed IT services is becoming increasingly crucial for innovation and maintaining competitiveness in the era of IoT.
Importance of Data Analytics
Data has become an invaluable asset in the modern business landscape. It's no longer just information but a valuable resource that can drive decision making, spur innovation, and fuel growth. In response to this changing landscape, managed IT services have also evolved significantly. They now offer comprehensive data analytics solutions that go beyond simple data collection and storage.

Businesses are realizing the tremendous value of data analytics. By utilizing the power of data, organizations can make well informed and precise decisions that lead to success. Data analytics goes beyond just crunching numbers; it involves uncovering significant patterns, insights, and actionable intelligence.

Managed service providers play a crucial role in the current data revolution. They offer a range of services that empower businesses on their data driven journey. These services include efficient data collection and management, secure data warehousing, and user friendly data visualization tools. Additionally, managed service providers utilize predictive analytics, machine learning, artificial intelligence, and real time data analysis to extract valuable insights for informed decision making.

In today's data driven environment, businesses are constantly generating and accumulating massive amounts of data. This makes the role of managed IT services in extracting valuable insights more crucial than ever. Partnering with a top notch managed services provider that specializes in data analytics is not only a strategic advantage but also vital for businesses aiming to thrive in this competitive landscape.
Conclusion
As we explore today's managed IT services, it becomes clear that various trends and technological advance­ments are transforming how businesses operate in the digital age. Strategies like prioritizing cloud adoption to improve efficiency and scalability, as well as the crucial role of cybersecurity in safeguarding organizations against evolving threats, all highlight the importance of managed IT services in enabling businesses to thrive within a dynamic and data centric landscape. In navigating these complete technological terrains, having a trustworthy managed IT service provider becomes indispensable.

At Prescient Solutions, we recognize the changing IT landscape. That's why we are committed to staying ahead of the curve and guiding businesses through these changes with assurance. Whether you require assistance in streamlining your cloud strategy, strengthening your cybersecurity measures, implementing automation and AI solutions, or leveraging the potential of data analytics, we are here to fully support you at every step of the way. As your trusted managed IT service partner, you can confidently embrace the dynamic digital future and shape a prosperous next chapter for your organization.


To learn more, reach out to our team today
! We are committed to revolutionizing your approach to technology management, setting you on a path to sustained success.