Inflation and Your IT Budget: How IT Management Services Can Help CFOs Navigate Rising Costs in 2023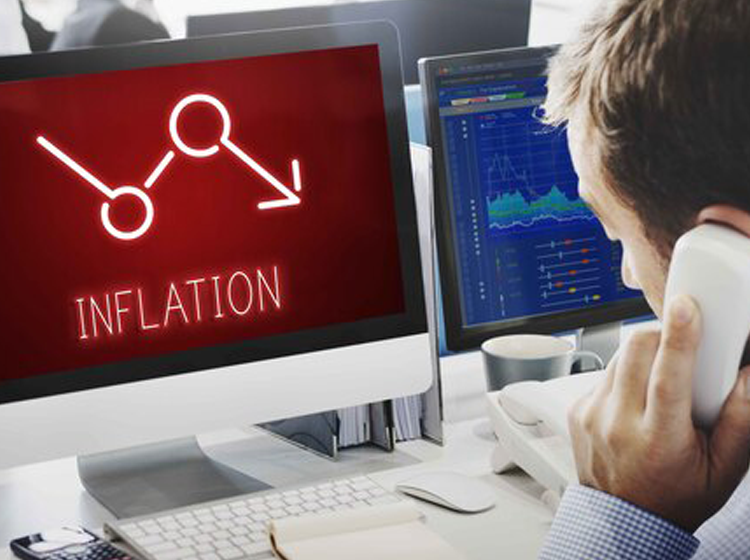 Inflation has been a prevalent economic challenge for businesses worldwide, especially in recent years. Businesses have experienced a cascade of rising costs for goods and services, making it difficult to sustain profitability and maintain competitiveness. Inflation can impact every aspect of a business's operations, from obtaining raw materials to handling payroll. Technology budgets are one area that is particularly susceptible to the effects of inflation.


As technology becomes even more integral to businesses of all sizes and across all industries, CFOs are finding IT spending to be an increasingly critical element. Costs associated with information technology are particularly vulnerable to price increases caused by inflation, making it challenging for companies to keep up.


In addition, the cost of IT support services like network maintenance and cybersecurity could climb, putting additional stress on already-stretched company IT budgets. In order to properly manage these costs, CFOs must devise strategies to maintain modern, secure information technology systems without breaking the bank.


In this blog post, we'll explore the impact of inflation on IT budgets and how IT management services can help CFOs navigate rising costs in 2023. By leveraging the expertise of an IT service provider, businesses can overcome the challenges of rising costs and remain competitive in their respective markets.
The Impact of Inflation on IT Budgets
Technology-related costs are increasing, making inflation a significant factor in IT budgets. In addition, IT support services, such as cybersecurity and network upkeep, can increase in price, further exacerbating the effects on IT expenditures.


Since component and material prices can fluctuate rapidly, hardware expenses are particularly sensitive to inflation. Because equipment costs may change dramatically over time, organizations may have trouble planning for IT hardware upgrades and acquisitions. Inflation can also raise the cost of software because sellers often raise their rates to offset price increases.


In addition, the cost of IT support services can rise, further straining IT budgets. Upkeep and cybersecurity services are essential for businesses, but they can be expensive, especially as cyber threats continue to advance. Because of this, organizations may have difficulty maintaining their IT infrastructure and protecting against online risks while maintaining their IT expenditures.


Managing the impact of inflation on IT spending will be one of the biggest difficulties facing CFOs in 2023. Businesses will need to discover ways to maintain their IT systems secure and up-to-date without going bankrupt due to the growing reliance on technology. This will require thorough planning and budgeting, as well as utilizing the knowledge of IT management services to maximize the use of IT resources and spot areas for cost savings. Businesses can ensure that they are well-positioned to prosper in a difficult economic situation by minimizing the impact of inflation on IT expenses.
How IT Management Services Can Help
One of the ways that CFOs can manage the impact of inflation on IT budgets is by leveraging IT management services. IT management services can help businesses in several ways, including:
Managing IT Infrastructure
In addition to adding value to businesses, IT management services can help them manage their IT infrastructure. Businesses can uncover cost-saving opportunities, maximize their technology resources, and keep up with the newest technological trends thanks to the experience of IT service providers.


IT management services can assist firms in managing their IT infrastructure in a number of ways. For instance, they might assist with the acquisition and implementation of hardware and software, making sure that companies have the necessary technological resources to support their operations. They can also assist with the continuing maintenance, improvements, and troubleshooting of these resources.


The use of an IT service provider can also assist firms in maximizing their IT assets by revealing hidden opportunities for cost savings and productivity gains. For instance, they can facilitate hardware consolidation and application migration to cheaper platforms. Also, they can aid in the optimization of network resources, making sure that organizations make the most of their available bandwidth and connections.
Tech Helpdesk Services
Businesses that rely heavily on technology can benefit greatly from investing in IT support services. IT management companies provide a variety of services, including help desk support, network upkeep, and security analysis and prevention.


Help desk support is an extremely beneficial service provided by many IT management companies. There are a number of ways to contact technical assistance, including over the phone, over email, or via live chat. Services like these are crucial for enabling consumers to resolve issues quickly and get back to work. Using an IT help desk service can help businesses reduce downtime caused by IT difficulties and increase output.


Network upkeep is yet another essential component of IT assistance. Monitoring and maintaining a company's network infrastructure involves looking for and fixing potential issues before they cause downtime. It also prevents data loss and keeps an eye on performance to ensure optimal performance. Many companies that specialize in IT administration also provide network maintenance services to help businesses keep their networks safe, reliable, and productive.


As cyber threats rise in frequency and sophistication, the need for cybersecurity services in IT support rises. Security services such as threat monitoring, vulnerability analysis, and incident response are available from IT companies to protect businesses against cyberattacks. These services help businesses safeguard their IT infrastructure and data from attacks, hence reducing the likelihood of system outages and loss of profits.
IT Consulting
IT consulting entails collaborating with companies to determine how technology might improve their productivity and effectiveness in certain areas. When partnering with an IT service provider, businesses can find cost-saving possibilities and make better technology investment decisions.


Depending on the requirements of the company, IT consulting services can take many forms. IT service providers, for instance, can collaborate with organizations to create technology plans, assisting them in matching their IT resources with their overarching business goals. They can also offer advice on using new technologies, assisting organizations in comprehending the prospective advantages and dangers of doing so.


In addition, IT consulting services can help organizations maximize their current technological resources. IT service providers can evaluate a company's technological processes and infrastructure to find areas for improvement. This could entail locating opportunities for hardware consolidation, application migration to more economical platforms, or procedure simplification for IT support.


Working with a reliable IT service provider also helps businesses choose their IT investments more wisely. Doing so can offer useful insights into new technological developments, assisting companies in staying ahead of the curve and being competitive in their particular sectors. Finally, investing in consulting services can help companies in locating areas for cost savings with their current technological resources, increasing productivity and minimizing waste.
Predictable Costs
By providing predictable IT costs, IT management services can help businesses budget for technology expenses more effectively. This enables CFOs to plan for inflation and avoid unexpected costs that could impact the company's bottom line.


IT management services can provide predictable IT costs in several ways. For example, they can provide fixed monthly or annual fees for their services, allowing businesses to budget for these expenses over time. This approach can be particularly helpful for businesses that are trying to manage the impact of inflation on their IT budgets, as it enables them to plan for expenses in advance.


In addition, working with an IT service provider can provide businesses with a range of IT services for a fixed fee, eliminating the need to pay for these services on a per-incident basis. This can help businesses avoid unexpected costs associated with IT support and maintenance, which can quickly add up over time.


By managing IT costs and resources more efficiently, businesses can allocate their resources more effectively towards their core competencies, driving growth and success. In addition, proactive IT management can help prevent issues that could lead to costly downtime and lost productivity, allowing businesses to focus on what matters most - their customers and their bottom line.


Conclusion
Inflation can have a significant impact on IT budgets, and CFOs are critical in controlling these costs. Businesses, on the other hand, can gain valuable assistance from IT management services in optimizing their technology resources, maintaining their IT systems, and protecting against cyber threats. Furthermore, collaborating with an IT service provider can provide predictable IT costs, allowing CFOs to plan for inflation and avoid unexpected costs that could negatively impact their bottom line. By leveraging the expertise of IT management services, businesses can navigate the challenges of rising costs while remaining competitive in their respective markets.


Providing IT solutions for more than 25 years, Prescient Solutions has a proven track record of helping businesses optimize technology resources, maintain their IT systems, and protect themselves from cyber threats. From IT infrastructure management and help desk support to IT consulting and cybersecurity, our team provides a full suite of IT services to help businesses thrive in the digital age while reducing costs.


To learn more about how Prescient Solutions can help your business navigate rising IT costs, call us today 866-665-0735.