CFO's 2023 Guide to Keeping Up with IT Trends and Emerging Technologies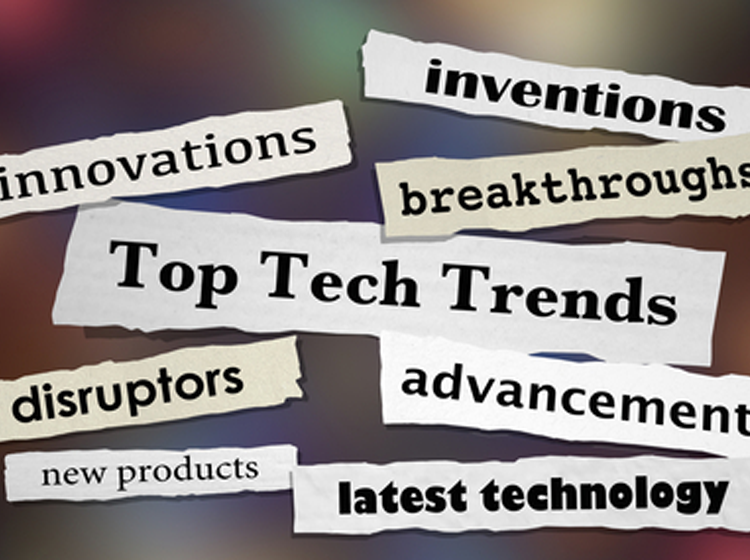 As a CFO, staying ahead of the latest technology trends is essential to the success of your business. The ever-evolving world of IT presents new opportunities and challenges, and it's critical to have a good understanding of what's coming down the pipeline.

In this guide, we'll highlight five key areas of focus for CFOs in 2023 and provide tips to help you excel in the coming years. From artificial intelligence to 5G, we'll explore the latest advancements and how they can impact your business. With this information in hand, you'll be better equipped to make informed decisions and stay ahead of the competition.
Where Should CFOs Focus?
With the ever-evolving technology landscape, it can be challenging to determine where to focus your attention. To help you navigate this constantly changing environment, we have identified five key areas that CFOs should focus on in 2023. From artificial intelligence and cloud computing to big data, these areas represent some of the most exciting and impactful trends shaping the world of IT today.
Artificial Intelligence
Artificial intelligence (AI) has the potential to reshape the way businesses operate and make decisions. As a CFO, it is essential to remain current with the latest developments in AI and understand how it can be used to streamline operations, increase efficiency, and reduce costs.

An important benefit of AI is its ability to automate processes. This allows businesses to free up time for employees to focus on more strategic tasks. For example, AI can automate repetitive tasks such as data entry or invoice processing, freeing up valuable time for employees to focus on higher-level tasks. Additionally, AI enables fast and accurate data analysis, delivering valuable insights that can inform decision-making and help companies make better business decisions.

Another way AI can help companies reduce costs is through its ability to optimize operations. AI algorithms can identify inefficiencies in processes and suggest improvements, reducing waste and improving overall efficiency. This can lead to cost savings and a more efficient operation.

To get the most out of AI, it is important to partner with a trusted provider who can help you understand the latest developments in AI and implement solutions that are tailored to your business needs. As AI continues to evolve and become more sophisticated, staying informed about the latest advancements and trends will be essential for CFOs looking to stay ahead of the curve.
Cloud Computing
Cloud computing has become a game-changer for organizations looking to streamline their operations and increase flexibility. The rapid growth of cloud computing has led many companies to move their IT infrastructure to the cloud, providing them with increased scalability, collaboration, and access to data from anywhere.

As a CFO, it is essential to understand the advantages of cloud computing and what it can do for your organization to become more competitive. One of the main advantages of the cloud is its scalability. This allows organizations to easily add or remove resources as needed. It also eliminates the need for large upfront investments in IT infrastructure and makes it easier for organizations to respond to changing business needs.

Another benefit of cloud computing is increased collaboration. With cloud-based solutions, employees can access data and collaborate on projects from anywhere, enabling them to work more effectively and efficiently. This can lead to improved productivity, better decision-making, and increased competitiveness.

Finally, the cloud provides increased access to data from anywhere. This enables organizations to make informed decisions and respond quickly to changing circumstances. With the cloud, businesses can take advantage of real-time data to make informed decisions and stay ahead of the competition.
Cybersecurity
Cybersecurity is a critical issue for businesses of all sizes, and it is essential for CFOs to be aware of the latest threats and security measures. With cyber threats constantly evolving, it is essential to implement robust security policies, invest in employee training, and partner with a trusted cybersecurity provider to keep your company and your data safe.

An important step to enhance your company's cybersecurity is to implement robust security policies. These policies should outline specific measures to protect sensitive data, such as password protocols and data encryption. Additionally, regular security audits can help identify vulnerabilities and ensure that your security policies are up-to-date.

Another critical component of a strong cybersecurity strategy is employee training. Regular training on security best practices and the latest threats can help employees recognize and respond to potential security incidents, reducing the risk of a breach.

Finally, partnering with a trusted cybersecurity provider can provide additional protection for your company and your data. These providers offer a range of services, including threat intelligence, breach detection, and incident response, that can help protect your company from cyber attacks.
Big Data
Big data is a rapidly growing trend that is changing the way businesses operate. With the amount of data being generated rapidly increasing, companies must have the ability to process, store, and analyze this data to gain valuable insights. As a CFO, investing in big data solutions is critical to unlocking the full potential of your company's data and making informed decisions.

One of the primary benefits of big data solutions is the ability to turn vast amounts of raw data into actionable insights. These insights can help companies make more informed decisions, improve operations, and stay ahead of the competition. For example, big data analytics can be used to analyze customer behavior, identify market trends, and optimize business processes.

Another advantage of big data solutions is the ability to store large amounts of data and make it accessible for analysis. With traditional data storage solutions, companies often struggle to manage the vast amounts of data being generated. However, big data solutions make it possible to store and access vast amounts of data, allowing companies to uncover new insights and make more informed decisions.

Finally, big data solutions can help organizations increase efficiency and reduce costs. By analyzing data in real time, companies can identify opportunities for cost savings, optimize business processes, and respond quickly to changing circumstances.
5G
5G technology is expected to be a game-changer for businesses, offering faster and more reliable connectivity. As 5G becomes more widely adopted, it will change how we interact with technology and how businesses operate. As a CFO, it's worth considering 5G and learning how it can help your business in 2023 and the coming years.

One of the primary benefits of 5G is faster data transfer speeds. This faster connectivity will allow companies to transfer data quickly and easily, improving productivity and enabling new and innovative applications. With 5G, businesses will be able to stream high-definition video and transfer large files in real-time without the delays and interruptions that can occur with slower connectivity.

Another advantage of 5G is improved connectivity. 5G networks will provide wider coverage and more stable connections, even in areas with high network traffic. This will improve the user experience and allow businesses to stay connected and operational, even in challenging environments.

Finally, 5G will enable new and innovative applications, unlocking new opportunities for businesses. For example, 5G can support the development of new technologies such as IoT devices, virtual and augmented reality, and autonomous vehicles. Technologies like these could revolutionize the way businesses operate. As a CFO, it is imperative to stay informed about these advancements and consider how they can benefit your organization.
How Can CFOs Stay Current with Emerging Trends?

Keeping up with these advancements can not only improve the efficiency and effectiveness of your operations, but it can also give your organization a competitive advantage. Listed below are some helpful tips for CFOs to stay ahead of IT trends in 2023:



Stay informed: Stay up-to-date with the latest IT trends and emerging technologies by reading industry publications, attending conferences, and following thought leaders in the field.


Collaborate with IT: Build a strong relationship with your IT department and work together to identify the technology solutions that will benefit your business.


Invest in education: Invest in training and development opportunities for yourself and your team to increase your understanding of technology and its impact on the business.


Embrace innovation: Embrace new technologies and ideas, even if they may seem unconventional, as they may offer unique solutions to business challenges.


Partner with a managed IT services provider: Partnering with a trusted managed IT services provider can help you stay ahead of the curve, providing you with expert advice and support in adopting the latest IT trends and technologies.


Plan for the future: Consider the long-term implications of your technology decisions and plan for the future to ensure that your business stays ahead of the competition.

By following these tips and staying informed about the latest IT trends and emerging technologies, CFOs can ensure that their business is equipped to handle the challenges of the future and take advantage of new opportunities as they arise.
Stay Ahead of the Game with Managed IT Services
From AI and cloud computing to cybersecurity and big data, there are many exciting opportunities for businesses to improve their operations and achieve their goals. However, keeping up with these trends and ensuring the implementation of the right technology solutions can be a challenging task.

That's where Prescient Solutions comes in. We offer a full range of managed IT services to help businesses stay ahead of the curve. Our team of experienced professionals will collaborate with you to assess your technology needs, recommend the right solutions, and provide ongoing support to keep your business running smoothly. Don't let technology hold your business back; contact Prescient Solutions today to learn how we can help.