Celebrating Success: Prescient Solutions Receives 2023 Inc. Best Workplace Award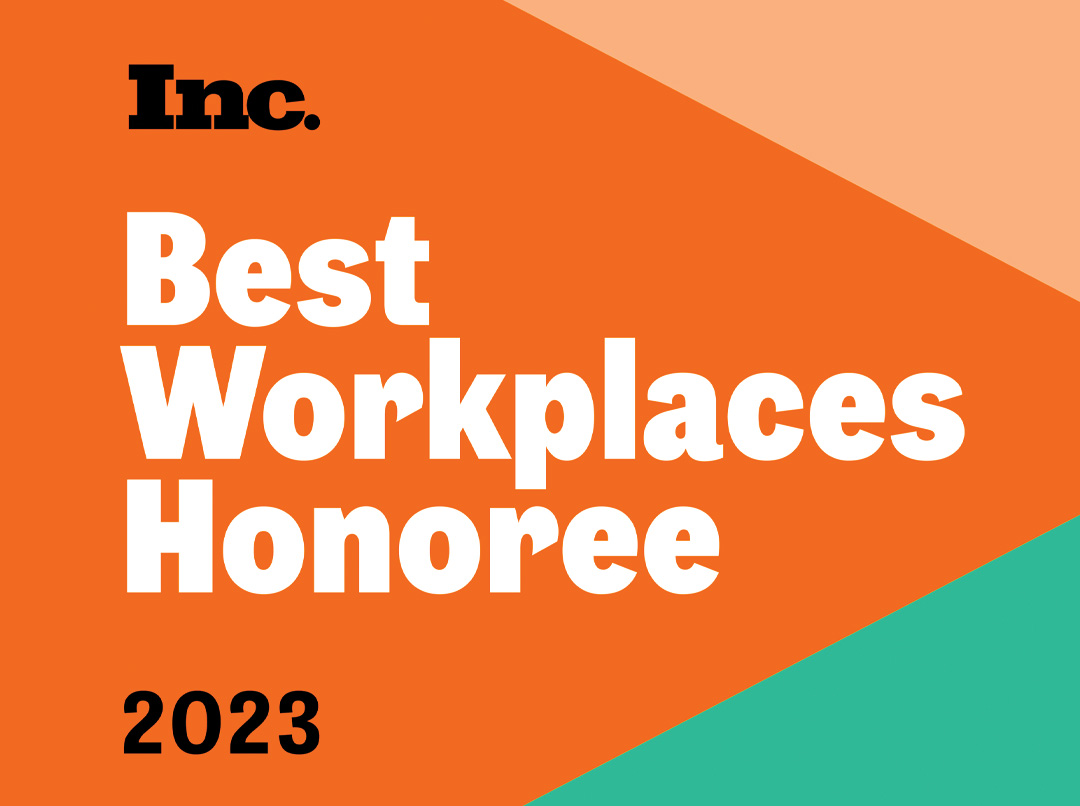 At the core of every successful organization lies a collaborative company culture that empowers and motivates employees. This intangible yet invaluable asset distinguishes exceptional organizations, driving innovation, collaboration, and ultimately success. From recruiting and retaining top talent to increasing employee engagement and productivity - an effective workplace culture provides the basis for sustainable growth and achievement.
Inc. Best Workplace Award is one prestigious recognition that honors organizations with exceptional company cultures. This esteemed accolade recognizes those organizations that have created an environment where employees thrive, leading to higher levels of employee satisfaction, engagement, and overall well-being. Additionally, this coveted recognition acknowledges companies focusing on employee empowerment, growth, and success.
Prescient Solutions is thrilled to be recognized on the Inc. Best Workplace list! By cultivating an inspiring, supportive work environment, Prescient epitomizes all of the qualities associated with an exceptional workplace - we firmly believe a thriving company culture forms the cornerstone of our success!
In this blog, we'll dive into this prestigious award and the criteria needed to receive this distinction. We'll also highlight our core values that have propelled Prescient towards this milestone achievement.
The Inc. Best Workplace Award: Recognizing Excellence
The Inc. Best Workplace Award is a coveted distinction that recognizes organizations with extraordinary company cultures. For almost 40 years, Inc. magazine has honored America's most dynamic businesses for their remarkable achievements. This award stands as a testament to companies that prioritize employee happiness, engagement, and overall satisfaction as their top priority.
What sets the Inc. Best Workplace Award apart is its focus on honoring outstanding workplace cultures that flourish despite adversity. This recognition is particularly meaningful, as it honors companies that have successfully redefined their workplace environments in response to challenges like the COVID-19 pandemic. Furthermore, this award honors organizations that have successfully adapted and enhanced their cultures, creating environments in which employees can advance professionally and flourish personally.
Achieving recognition as employers of choice is of great significance for companies. This coveted award not only enhances a company's brand as an employer but also serves as a powerful indicator of its commitment to creating an inclusive work environment that supports employee well-being, satisfaction, and professional development.
Companies applying for the Inc. Best Workplace Award gain invaluable insight into their strengths and areas for improvement through applying. The application process involves creating a company overview report using employee feedback, which offers valuable data to improve daily operations, cultivate an ideal workplace, and foster an excellent organizational culture. This report enables organizations to leverage essential insights for enhancing their overall performance and creating a thriving work environment.
The Inc. Best Workplace Award provides honorees with national recognition and exposure, featuring them in one of the leading business publications - Inc. magazine in particular - providing valuable exposure that proves their company's dedication to creating a positive workplace culture. Honorees also benefit from national and local media coverage to further amplify their presence within their community and reach a wider audience.
Receiving the Inc. Best Workplace Award immediately and positively affects employee engagement, productivity, and retention. This honor strongly signals that employees' well-being and satisfaction are valued, helping them feel proud of their company. It also helps companies increase productivity levels and improve employee retention rates. Furthermore, winning this accolade serves as a powerful recruitment tool in today's highly competitive job market, drawing top talent towards your organization and positioning it as an employer of choice in the eyes of prospective talent.
How Honorees Are Selected
The Inc. Best Workplace Award selection process takes a comprehensive approach, selecting companies demonstrating exceptional company cultures while prioritizing employee satisfaction, engagement, and well-being. The criteria used to assess companies for this prestigious honor aim at finding workplaces that excel at providing positive and supportive environments for their employees. This comprehensive selection process highlights the following criteria:
Application Submission: In order to be considered for the Inc. Best Workplace Award, businesses must submit a comprehensive application that offers insight into their workplace practices, policies, and culture. The submission allows companies to showcase their dedication to creating an exceptional work environment.
Quantum Workplace Employee Survey: Businesses must conduct the Quantum Workplace employee survey as part of their evaluation processes. This questionnaire allows employees to express their feedback and opinions on various aspects of their workplace - leadership, communication, work-life balance, growth opportunities, and overall satisfaction - with answers playing an integral part in measuring employee sentiment and company culture effectiveness.
Independence and Location: To qualify for the Inc. Best Workplace Award, businesses must be independent entities - not subsidiaries or divisions of other businesses - located within the United States. They must also reflect this award's dedication to celebrating exceptional workplaces within American business culture.
Employee Count and Revenue: Businesses considered for this award must employ at least five permanent staff. This criterion ensures that companies of various sizes - ranging from startups to larger organizations - are eligible. Furthermore, companies must have been in business for at least two years and had annual revenues under $1 billion, creating inclusivity across various industries.
Although these criteria provide a framework for evaluation, the Inc. Best Workplace Award also considers factors like innovation, diversity and inclusion initiatives, employee development programs, work-life balance initiatives, and overall employee satisfaction. Its goal is to recognize businesses that go above and beyond to create an enjoyable work environment for their employees.
The Inc. Best Workplace Award selection process is rigorous and inclusive to ensure only the most deserving companies receive this honor. Through consideration of numerous criteria, this award seeks to honor organizations that prioritize business success and acknowledge the significance of fostering an engaging workplace culture.
Prescient Solutions Honored With Inc.'s Best Workplace Award
Prescient Solutions, an esteemed managed service provider for global businesses, local municipalities, schools, and government agencies, was honored to receive Inc. Best Workplace status for 2023. This recognition underscores Prescient's dedication to creating an exceptional work environment where employees flourish - where engagement, respect, and a shared belief in its future success are fostered at every turn.
Prescient Solutions has been at the forefront of IT for over 27 years. We specialize in helping organizations maximize technology resources while mitigating vulnerabilities and fulfilling an increasingly-growing need for highly skilled IT professionals. As demand for these professionals continues to increase, our team places special emphasis on creating an environment that rewards individual initiative and nurtures talent. Our highly qualified IT staff not only support each other, but are also given ample space to develop their individual talents and strengths.
At Prescient, we actively recruit highly-motivated IT professionals with outstanding track records of success, understanding that their success relies on team collaboration. To attract and retain top talent, we offer competitive compensation and benefits packages and build strong client relationships to provide rewarding experiences for employees and customers alike.
Prescient is thrilled to receive the highly esteemed Inc. Best Workplace Award for 2023, which underscores our company's dedication to creating an exceptional work environment. Furthermore, recent employee survey results demonstrate our success at prioritizing employee engagement, respect, and belief in our future, as evidenced by this accolade. According to our recent employee survey:
97%

feel respected by colleagues
96% feel accepted by coworkers

96%

believe in Prescient's future success

94%

are proud to work at Prescient

95%

employee engagement rating
These outstanding survey results illustrate the positive and inclusive workplace environment created by Prescient Solutions, where employees feel valued, supported, and inspired to give their best efforts in service of our company.
How Our Award Benefits Clients
Winning the Inc. Best Workplace Award has huge ramifications not only for our employees, but also for our valued clients. Here's how they benefit:
Superior Service Delivery: Our commitment to creating an outstanding work environment pervades all aspects of our operations. By building an environment conducive to teamwork and support, our employees can consistently provide top-tier service to clients. When you choose Prescient Solutions as your IT services provider, expect even higher standards in quality, efficiency, and expertise.
Access to Top Talent: As an Inc. Best Workplace, we attract and retain top talent. Our employees are skilled, experienced, and passionate about what they do. When you partner with us, you gain access to a pool of professionals committed to understanding your unique business requirements and offering customized IT solutions.
Innovation and Cutting-Edge Technologies: We embrace an environment of innovation. Our team members are encouraged to think creatively, explore emerging technologies, and stay ahead of industry trends. When you partner with us, you benefit from our relentless pursuit of excellence; giving your business access to cutting-edge innovations and solutions that can drive business forward.
Enhanced Security and Compliance: Prescient Solutions' commitment to creating an exceptional work environment extends to our ardent security and compliance practices, which understand the significance of protecting sensitive data and adhering to regulatory requirements. Our award-winning team prioritizes security at every level for your peace of mind and reduced risks.
Collaborative Partnership: Winning the Inc. Best Workplace Award has solidified our dedication to building strong relationships with our clients. At Prescient Solutions, we believe in open communication, active collaboration, and taking a client-centric approach. When partnering with us, you can expect us to work closely with you to understand your goals, align IT strategies with business objectives, and provide proactive support that ensures success for both of us.
In the words of Matt Szeghy, Vice President of Sales at Prescient Solutions, "Those 'it' factors, those intangibles that we teach – those translate to our clients and they see the amount of care above and beyond technology."
Prescient's award-winning workplace culture infuses every aspect of our client relationships, offering them the highest level of care and dedication beyond technology solutions. By selecting us as your partner, you not only gain exceptional IT services, but also gain someone who values your success while building lasting relationships.
Join Our Team: Explore Fulfilling Career Paths at Prescient Solutions

By earning a coveted spot on Inc.'s prestigious 2023 Best Workplace list, Prescient Solutions proudly sets itself apart as a shining example of organizational excellence in cultivating exceptional workplace cultures. Within our esteemed workplace, we hold firm to our commitment of delivering an unparalleled employee experience that nurtures growth, empowerment, and lasting satisfaction.
Through unwavering dedication to fostering employee engagement, upholding respect, and instilling a shared belief in the collective success of our company, we create an environment that propels individuals to flourish and unleash their full potential. Here, we provide the ideal platform for employees to thrive, grow, and embark on a transformative journey towards personal and professional fulfillment.
Prescient Solutions is delighted to provide skilled IT professionals with an exceptional opportunity to join a work environment that highly values expertise, promotes continuous growth, and offers abundant avenues for success. As part of our team, professionals have the chance to leverage their talents, contribute to impactful projects, and advance their careers within a stimulating and supportive work atmosphere, fostering both personal and professional growth.
To explore exciting career opportunities at Prescient Solutions, visit our Careers page or call us today
.